Today we're taking a look at Lesa's blog,
Lesalicious Style and Life
. This blog is a mix of sewing and crocheting. Lesa has a fresh, open writing style that draws you straight into her life and her creative genius!
Lesa uses her years of sewing experience to guide her crochet work, which is mostly improvised. She offers great tutorials for
crocheting without a pattern
, specific crochet techniques (e.g.
working off a chart
), and sewing (e.g. a reversible
purse
). Lesa makes lots of items for her two gorgeous daughters both with sewing and crochet, even some
recycling of old clothes
into new ones. Ideas abound on her site for those of us with little ones!
Here is Lesa's email survey responses:
What is your name?
Lesa is what everyone calls me but, Ellisa is my name.


How long have you been crocheting?

About 2 years and a half now.
What's the project you're most proud of?
I have a lot but, I am only going to pick a couple that I like the most that has a little of a reason behind to why I picked them
What's your favorite thing about crochet?
To me it helps relieve stress. I took on crocheting because I liked it a lot but, didn't know anyone to teach me so I tought myself and every since it has been a stress relief for me that now became a great hobby that I would like to pass down to my kids one day.

What type of projects do you enjoy working on the most?
I notice I tend to crochet purses a lot more since they are fast to whip up so I will have to say purses. What woman don't like purses?


What's the project you're most proud of?
I have a lot but, I am only going to pick a couple that I like the most that has a little of a reason behind to why I picked them
This shirt I made for myself was the first shirt I ever made for myself. NO Pattern followed. My proudest ever.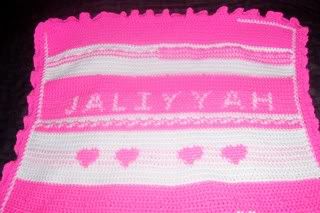 This blanket I made for my niece first time I ever used letters in my crocheting.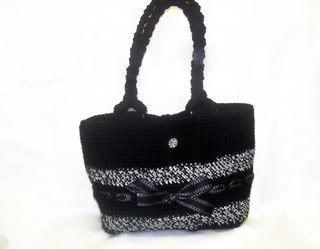 This purse was my first purse to sell on Etsy. I loved this purse it was hard to give it up lol. But, those was my proudest crocheting projects.


W

hat's your favorite design you've ever created?


I do design but, I yet to write my own pattern so do that counts. I am more of a winging person. I am more of a look at something and go for it. So I will have to say all my own designs are my favorite I don't really have just one because most of my crocheting projects are mainly my own designs.



How do you go about designing?


How do I go about hmmmmmm, I mainly just think of something I like to wear or I use my daughters as a way to help me out. They love looking at books, and magazines so I tend to get ideas like that also from other people blogs also helps me a lot with my own designing it gives me a little idea of what I like to make in the future of give a try at without a pattern.



What else are you interested in?


Well I started off with sewing when I was 13 years old. I started with making little baby doll clothes then I started with making small purses for me and my friends and worked my way up to making my own summer clothes and every since I have been sewing. Have had about 10 different sewing machines since then lol. So sewing and crocheting are my main hobbies. I do read a lot whenever I am not doing either sewing or crocheting. I am a horror movie fan so you can find me watching horror movies and crocheting up a storm on the weekends.:)



Is there anything else you want people to know about you?


Well I am a mom to my 2 wonderful gals. Nesa that is 5 going on 30 lol Nellie that is 3 going on 25 lol. I am 27 wow not in my early 20's no more lol. Live in Milwaukee, WI. I am on my way to try to lose weight and be health for myself. I am a SAHM due to my daughter Nesa being born with a liver disease it's hard for me to work right now but, as a SAHM I now use my hobby to make a little extra money from time to time. Either selling my things at a boutique or doing custom made items. Other words that's me Lesa:)

Oh by the way I am also the host of 2 other blogs. Crochet Chicks where us ladies that love to crochet and show off our work to other crochets. Also Swap Swap Gals for us ladies that either crochet, knit, or sew to come together and swap gifts ever month with other lovely ladies that love to crochet, knit or sew.:)

Thanks for participating, Lesa!